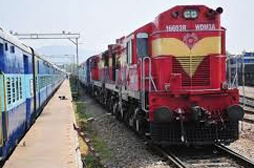 Railways
Report No.14 of 2017 - Compliance audit Union Government (Railways)
Date on which Report Tabled:
Fri 21 Jul, 2017
Date of sending the report to Government
Government Type
Union
Union Department
Railways
Sector
Social Welfare,Social Infrastructure
Overview
This Audit Report consists of audit findings relating to compliance issues in respect of the Ministry of Railways and its various field units for the year ending March 2016.
Important audit issues covered in this Report:
Chapter 1 covered introduction of audited entities and recoveries at the instance of audit of earlier period.
Chapter 2 – This chapter includes two reviews.First review 'Parcel Business in Indian Railways' focused on management of parcel services and examination of adequacy of infrastructure and other institutional arrangements for improvement in parcel services. Other review on 'Container Trains Operation in Indian Railways', focused on the effectiveness of monitoring system and recovery of dues by container operators. In addition, ten Audit Paragraphs highlighting irregularities such as, injudicious decision of preservation of railway line sections as heritage; non-preferring of bills of shunting charges;non-levy of detention charges;etc.
Chapter 3 – This chapter includes twolong paragraphs. One relates to Diesel Locomotive Works focusing on system of indigenization of suppliers and vendor development. The second long paragraph is related to 'Energy conservation measures in Indian Railways'. In addition, two individual paragraphs also included.
Chapter 4 - This chapter includes on review and one local review. The review on 'Management of linen in Indian Railways' focusing on assessment of adequacy and effectiveness of procurement, handling, storage of linen (bedsheets, blankets, pillow, pillow cover). The local review related to Working of Coach Rehabilitation Workshop located at Bhopal. This chapter also includes five individual paragraphs.
Chapter 5 - This Chapter includes nine individual paragraphs relating to poor planning in land management, acquisition etc. leading to extra expenditure; avoidable expenditure due to delay in payment of spectrum charges;non-recovery of lease charges; delay in rebuilding of bridges; non-utilisation of pit-line facilities; award of contract without availability of clear site etc.
Chapter 6 - This Chapter highlights one paragraph on non-recovery of subscription towards new pension scheme and two issues on Railway PSUs viz., Rail Vikas Nigam Limited (RVNL) and Indian Railway Catering and Tourism Corporation Limited (IRCTC).
Download Audit Report