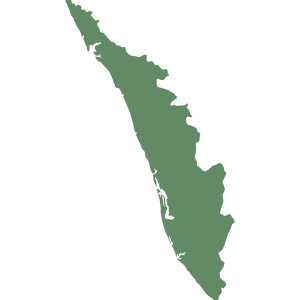 Kerala
Report of 2015 - Financial and Performance Audit on State Finances of Government of Kerala
Date on which Report Tabled:
Wed 11 Mar, 2015
Date of sending the report to Government
Overview
The State is located at the southern end of the country, sharing borders with Tamil Nadu and Karnataka. In terms of geographical area, Kerala is ranked 21st in the county with an area of 38,863 sq.km. While the State is having a population of 3.34 crore (12th in the country), it remains the third most densely populated State with a density of 860 persons per sq.km. The State's population increased from 3.18 crore in 2001 to 3.34 crore in 2011 recording a decadal growth of five per cent. The State's percentage of population below the poverty line is less than the all-India average. The State's Gross State Domestic Product (GSDP) in 2013-14 at current prices was Rs. 4,02,972 crore. The State's literacy rate increased from 90.9 per cent (as per 2001 census) to 94 per cent (as per 2011 census). The per capita income (2012-13) of the State at current prices stands at Rs. 99,977against the country average of Rs. 68,757.
This Report of the Finances of the Government of Kerala is being brought out with a view to assess objectively, the financial performance of the State during 2013-14 and to provide the State Government and the State Legislature with timely inputs based on audit analysis of financial data. In order to give a perspective to the analysis, an effort has been made to compare the achievements with the targets envisaged by the State Government in the budget estimates of 2013-14. Based on the audited accounts of the Government of Kerala for the year ended March 2014, this Report provides an analytical review of the Annual Accounts of the State Government. This Report is structured in three Chapters.
Finance Accounts and makes an assessment of the Kerala Government's fiscal position as on 31 March 2014. It provides an insight into trends in committed expenditure and borrowing pattern, besides giving a brief account of Government of India funds transferred directly to the State implementing agencies through off-budget route.Appropriation Accounts and gives a Grant-by- Grant description of appropriations and the manner in which the allocated resources were managed by the service delivery departments.Kerala Government's compliance with various reporting requirements and financial rules. The report also compiles the data compiled from various Government departments/organizations in support of the findings.
Download Audit Report