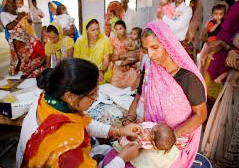 Civil
Report No.8 of 2019 - Preparedness for the Implementation of Sustainable Development Goals, Union Government (Civil) NITI Aayog
Date on which Report Tabled:
Mon 08 Jul, 2019
Date of sending the report to Government
Wed 19 Jun, 2019
Government Type
Union
Union Department
Civil
Sector
Environment and Sustainable Development,General Sector Ministries and Constitutional Bodies
Overview
In the 70th session of the United Nations General Assembly, the Government of India affirmed its commitment to the 2030 Agenda and Sustainable Development Goals (SDGs). SDGs are expected to set up the development agenda and policies to eradicate poverty, protect the planet, foster peace and promoting prosperity for all. This Report brings out key initiatives being undertaken by the Government for the implementation of SDGs and suggests ways to improve by highlighting areas of concern.
Download Audit Report