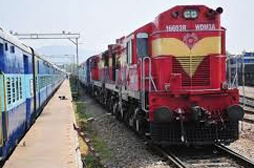 Railways
Report No.5 of 2018 - Compliance Audit on Union Government (Railways) year ended March 2017
Date on which Report Tabled:
Fri 20 Jul, 2018
Date of sending the report to Government
Government Type
Union
Union Department
Railways
Sector
Transport & Infrastructure
Overview
This Audit Report consists of audit findings relating to compliance issues in respect of the Ministry of Railways and its various field units for the year ending March 2017.
Important audit issues covered in this Report:
Chapter 1 covered introduction of audited entities and recoveries at the instance of audit of earlier period.
Chapter 2 – This chapter includes two reviews. First review 'Flexi fare system in Rajdhani, Duronto and Shatabdi trains' commented on the implementation of flexi fare system irrespective of demand and occupancy, which caused decrease in occupancy in these trains. Other review on 'Management of commercial plots and parking spaces near station by Commercial Department in Indian Railways', focused on poor coordination between commercial and engineering departments for management of commercial plots and parking lots. In addition, 15 Audit Paragraphs highlighting irregularities such as, underutilization of newly created lines, inadmissible allowance of concession, non-recovery of wagon hire charges etc.
Chapter 3 – This chapter includes six individual paragraphs related to blocking up of capital, non-recovery of maintenance charges, short recovery of land licence fee etc.
Chapter 4 - This chapter includes one local review focused on setting of new diesel locomotive factory at Marhowra, Bihar. Besides two individual paragraphs are also included in this chapter.
Chapter 5 –This Chapter includes three chapter related to signaling and telecommunication departments of Indian Railways.
Chapter 6 - This Chapter highlights one paragraph on detention of wagons during the POH in Dahod workshops of Western Railway.
Chapter 7 – This chapter includes four paragraphs related to autonomous bogies of Indian Railways.
Chapter 8 – This chapter includes two paragraphs related to Railway PSUs.
Download Audit Report