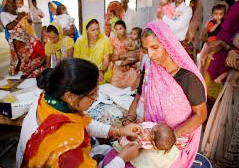 Civil
Report No. 38 of 2010-11 - Compliance Audit on Autonomous Bodies, Union Government(Civil)
Date on which Report Tabled:
Fri 05 Aug, 2011
Date of sending the report to Government
Government Type
Union
Union Department
Civil
Overview
In 2009-10, there were 315 central autonomous bodies whose accounts were to be certified under Section 19(2) and 20(1) of the CAG's (DPC) Act 1971. Government of India released RS 35073.03 crore towards grants/loans to 262 central autonomous bodies during 2009-10. Information in respect of 11 central autonomous bodies was not furnished by the concerned ministries. Accounts for 2008-09 for 292 central autonomous bodies were to be made available for audit by 30 June 2009 and audited accounts were to be placed before the Parliament by 31 December 2009. Of these, accounts of 109 central autonomous bodies were submitted for audit within the stipulated time. The accounts of two central autonomous bodies were not submitted for audit by the concerned organisation as of December 2010.
Indian Council for Cultural Relations (ICCR)-ICCR awarded the work of inaugural ceremony of "Festival of Russia in India" to a contractor at a cost of Rs.55.05 lakh without following tendering process. The action of the Council thus resulted in undue favour to the contractor.ICCR obtained approval of competent authority by including misleading information in the proposal submitted for approval for the publication of its journal, 'Africa Quarterly' resulting in irregular expenditure of Rs.37 lakh during the period from February 2006 to December 2009.All India Institute of Medical Sciences (AIIMS)-AIIMS delayed due payment of ground rent for the land allotted to it by Land and Development Office on two occasions. This resulted in avoidable expenditure of Rs.38.31 lakh towards interest paid due to belated payment of ground rent.
University of Hyderabad-University of Hyderabad suffered a loss of Rs.2.21 crore due to extending undue benefit to the contractor by treating different works under one agreement as a composite project.National Council of Educational Research and Training (NCERT)-NCERT failed to dispose of obsolete books within the stipulated time as per its weeding out policy. This resulted in incurring an extra expenditure of Rs.1.41 crore by NCERT on hiring charges of godown space for the storage of these books.
Download Audit Report