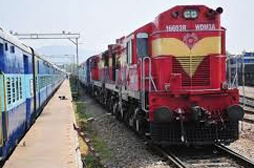 Railways
Report No.13 of 2017 - Performance audit on Catering Services Reports in Indian Railways, Union Government, Railways
Date on which Report Tabled:
Fri 21 Jul, 2017
Date of sending the report to Government
Government Type
Union
Union Department
Railways
Sector
Social Welfare,Social Infrastructure
Overview
Audit focused to assess the adequacy and availability of good quality and hygienic food to railway passengers at affordable rates. Audit also assessed the management of contracts awarded for providing catering services at stations and in trains for ensuring good quality catering services.
Audit noticed that frequent change in catering policy and consequent transfer of responsibility to manage catering units from railways to IRCTC and back, have created a state of uncertainty in management of catering services provided to the passengers over the years. Railway Board formulated in new catering policy in February 2017. As per the new policy, a number of catering activities which were assigned to IRCTC in 2005 policy and then transferred to Zonal Railways in 2010 policy, have now been assigned back to IRCTC. However, the concerns of quality, hygiene, affordability and availability of food to passengers as identified in this Report are needed to be adequately addressed.
Requirement of catering facilities on stations and trains were not assessed comprehensively for each station.Zonal Railways did not ensure provision of pantry cars in a number of long distance trains. Alternative services through train side vending and/or base kitchens were also not provided in some of the trains checked in audit.Continued presence of hawkers and sale of unauthorized food on trains also indicated that the catering services provided on trains were not adequate. It was seen that hygiene and cleanliness in respect of the food served was not ensured by the railways on stations and in trains.
Download Audit Report