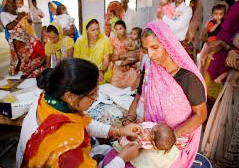 Civil
Report No. 9 of 2010 - Compliance Audit on Autonomous Bodies, Union Government(Civil)
Date on which Report Tabled:
Tue 03 Aug, 2010
Date of sending the report to Government
Government Type
Union
Union Department
Civil
Sector
General Sector Ministries and Constitutional Bodies
Overview
This report contains the audit findings of significant nature which arose from the compliance audit in Civil Ministries of the Union Government, Departments of Posts and Telecommunications and their field offices. The report contains 18 chapters. Chapter T explains the audit methodology and auditee profile. Chapter II to XVII present detailed findings/ observations arising out of the compliance audit in these Ministries/Departments. Chapter XVIII presents summarised position of the remedial/corrective Action Taken Notes furnished by the Ministries.
The National Plant Quarantine Station (NPQS), New Delhi, is responsible for regulating import of plants and planting material with a view to keeping exotic microbes, insects, pests, and weeds at bay. To conduct necessary "grow-out tests" of the imported sowing and planting material, NPQS got a glass house constructed in 2001 at a cost of Rs. 1.88 crore. However, the glass house had not been put to its intended use, and the equipment had deteriorated due to long disuse, making it unsuitable for future use and rendering the entire expenditure infructuous.To detect exotic pests and disease infestation of agricultural produce brought in by arriving passengers, NPQS procured one X-Ray scanner in 2005-06 at a cost of Rs. 35.26 lakh for use at the IGT Airport, New Delhi. However, the X-Ray scanner had been lying in packed condition for the last three years, as no space had been provided in the IGI Airport for its installation and use.
As indiscriminate disposal of garbage and insanitary conditions close to airfields attract birds and pose serious hazards of air accidents due to bird hits,the Ministry of Agriculture had launched a Centrally Sponsored Scheme in the VIII Plan for providing assistance to States for modernisation/ improvement of slaughter houses and establishment of Carcass Utilisation Centres (CUCs).This scheme was aimed at minimizing air accidents due to bird hits at ten selected high risk IAF airfield towns.Audit observed that the scheme was not successful in modernisation of slaughter houses and establishment of CUCs, due to poor project implementation by the State Governments and their agencies, and lack of effective oversight by the Ministry. Eight out of ten projects at high risk IAF airfield towns (Ambala, Sirsa, Gwalior, Tezpur, Dindigul, Adampur, Hindon and Bareilly) could not commence or were not made fully operational, even after 18 years and expenditure of Rs 26.63 crore. The scheme was finally closed in 2004-05, without achieving its objectives and, therefore, the IAF airfields continued to remain exposed to high risk of air accidents due to bird hits.
Download Audit Report