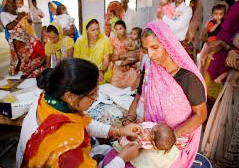 Civil
Report No. 31 of 2010 - Performance Audit of Civil on Member of Parliament Local area Development Scheme
Date on which Report Tabled:
Fri 18 Mar, 2011
Date of sending the report to Government
Government Type
Union
Union Department
Civil
Sector
Social Infrastructure
Overview
The Member of Parliament Local Area Development Scheme (MPLADS) was introduced on 23 December 1993 to enable Members of Parliament (MPs) to identify small works of capital nature to meet local needs in their constituencies. The MPLADS is a Plan Scheme fully funded by the Government of India and the funds released under the scheme are non-lapsable.
The Scheme provides that Members of Lok Sabha may select works for implementation in his/her constituency while Members of Rajya Sabha may select works for implementation in one or more districts of his/her choice in the State from which he/she has been elected. Since 1998-99, Rs.2.00 crore per annum is being allotted to each MP. Between 2004-05 and 2008-09, Rs.7245.95 crore had been released and Rs.9836.53 crore was available with various District Authorities (which included opening balance of Rs.2404.26 crore as of 01 April 2004 and interest of Rs.186.32 crore accrued on unspent balances during 2004-09). Against this, an expenditure of Rs.8048.53 crore had been incurred leaving an unspent balance of Rs.1788.00 crore as on 31 March 2009.
The Scheme is administered by the Ministry of Statistics and Programme Implementation, which is responsible for policy formulation, release of funds and also for prescribing a monitoring mechanism for its implementation. At the State level, a Department is designated as the Nodal Department with the overall responsibility for supervision, monitoring and coordination of MPLADS implementation with the districts and other line Departments. Decision making powers in regard to technical, financial and administrative sanctions to be accorded under the Scheme vest in the district level functionaries, viz. the District Authorities(DAs).
Download Audit Report