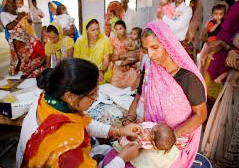 Civil
Report No. 5 of 2010 - Performance Audit of Non Lapsable Central Pool of Resources Scheme of Union Government, Ministry of Development of North Eastern Region
Date on which Report Tabled:
Fri 07 May, 2010
Date of sending the report to Government
Government Type
Union
Union Department
Civil
Local Body Types
Local Bodies
Overview
The scheme of Non lapsable Central Pool of Resources (NLCPR) was started by the Central Government in 1998-99 to ensure speedy development of infrastructure in North East region by providing funding for specific projects identified by the State governments. This central pool of resources for North Eastern States was to be funded from the unspent amount of the stipulated 10 per cent of the gross budgetary support earmarked for spending on North Eastern (NE) States by Union Ministries each year.
A Performance Audit of implementation of NLCPR scheme was conducted covering the period from 2002-03 to 2007-08 and out of 527 projects approved during the above period, a sample of 91 projects was selected for examination in audit. Audit findings were communicated to the Ministry in September 2009 and the reply of the Ministry received in February 2010 has been taken into account in finalizing this report.NLCPR fund had a total accrual of Rs. 6525 crore during last five years from 2003-04 to 2007-08 against which the aggregate amount released to NE states was only Rs. 3205 crore constituting 49 per cent of the total accruals. The fund had a balance of Rs. 6963.79 crore at the close of the financial year 2007-08.Relatively small amount of releases from the fund every year indicate poor implementation of the programme despite availability of funds.
The Cabinet decision of November 1997 stipulated that the Ministry of Finance would create a NLCPR fund in the Public Account of India. No such Reserve Fund has been created in the Public Account so far and the Ministry is maintaining this fund merely on proforma basis. Hence, the NLCPR fund maintained under the present arrangements can not be said to be a non-lapsable fund.The completion rate of projects under NLCPR was far from satisfactory. As of 30 September 2008, 959 projects with an approved cost of Rs. 7070 crore had been sanctioned from the NLCPR fund. Of these, 783 projects had become due for completion by October 2008 or earlier, however, only 435 projects (56 per cent) involving an expenditure of Rs. 1934 crore had been completed. Even completed projects had huge time overruns ranging up to five years or more.
Download Audit Report