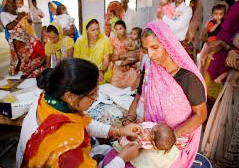 Civil
Report No.15 of 2018 - Performance Audit on National Rural Drinking Water Programme in Ministry of Drinking Water and Sanitation
Date on which Report Tabled:
Tue 07 Aug, 2018
Date of sending the report to Government
Government Type
Union
Union Department
Civil
Overview
The Government of India launched the National Rural Drinking Water Programme (NRDWP) in April 2009 by modifying the Accelerated Rural Water Supply Programme (ARWSP) and subsuming earlier sub-mission/schemes. A performance audit of the NRDWP was conducted to assess how far the objectives of the Programme were achieved. The performance audit covers the period from 2012 to 2017 and examines various aspects of the Programme such as planning, delivery mechanism, fund management, implementation including coverage of partially covered and quality affected habitations, water quality monitoring and surveillance.
Download Audit Report