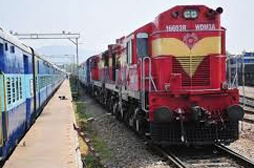 Railways
Report No.22 of 2022 - Performance Audit on Derailment in Indian Railways, Union Government (Railways)
Date on which Report Tabled:
Wed 21 Dec, 2022
Date of sending the report to Government
Fri 09 Sep, 2022
Government Type
Union
Union Department
Railways
Sector
Transport & Infrastructure
Overview
Performance audit was conducted to ascertain whether measures to prevent derailments were clearly laid down and implemented by the Ministry of Railways. Timely conducting of investigations on derailment and implementation of the preventive recommendations were the other areas of audit.
The report highlights various track related issues, results of analysis of accident inquiry reports, utilisation of Rashtriya Rail Sanraksha Kosh (RRSK) funds for track renewal works etc. during the period April 2017 to March 2021. Four recommendations were made in the report.
Download Audit Report