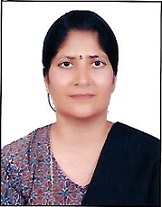 Ms. Lata Mallikarjuna
Ms. Lata Mallikarjuna is a 1992 Batch officer of Indian Audit and Accounts Services. She took charge of Director General, Regional Training Institute, Nagpur on 16.08.2022 (F/N).
She has wide experience of working in the Office of Comptroller and Auditor General of India, New Delhi as well as field offices of Indian Audit and Accounts Department.
Prior to her current assignment, she served as Principal Accountant General (A&E), AP, Vijaywada, Director General (Railway Board Audit) at Headquarters, Accountant General (E&RSA), AP & Telangana, Hyderabad, MAB Chennai and other offices of IAAD at Gwalior.
She possesses rich experience of international audits like Food and Agriculture Organization (FAO) Audit Rome, Embassy Audit of Indian Missions at Pakistan, Qatar, Oman & Bahrain, Field Audit of UNOPS at Kathmandu, Nepal, Phnom Penh, Cambodia & Bangkok.
She also rendered her services to The English and Foreign Language University (EFLU), Hyderabad as a First Finance Officer during 2009-2012 and Maulana Azad National Urdu University, Hyderabad as a Finance Officer in 2018.